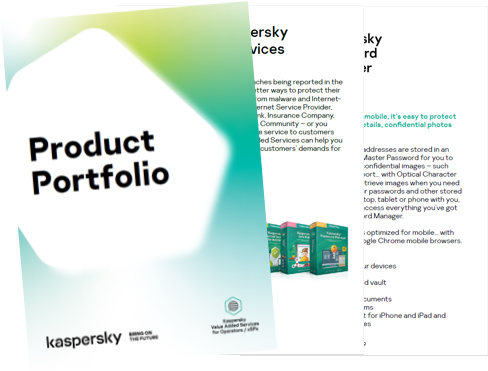 Business Opportunity
With more and more IT security breaches being reported in the press, consumers are keen to find better ways to protect their privacy, money and digital assets from malware and Internet-based attacks. Whether you're an Internet Service Provider, Mobile Communications Provider, Bank, Insurance Company, Financial Services Provider or Games Community – or you deliver almost any other type of online service to customers or subscribers – Kaspersky Value Added Services for xSPs can help you to boost your revenues, by meeting your customers' demands for greater security.
By partnering with Kaspersky – a world-leader in cybersecurity products – you can offer your home and business users a value-added service that:
● Expands your reach with new business opportunity

● Provides a premium protection for:

- a range of endpoint platforms: PC & Mac, Android & iOS smartphones
- IoT security components for router platforms


● Enables you to generate an additional, profitable, monthly revenue stream

● Helps you boost your customer satisfaction levels & customer retention rates

● Improves security across your network of subscribers / customers
… while also reducing the load on your support team – because fewer of your customers will fall victim to malware attacks and security breaches.