Auto-Renewal Plan
Our hassle-free Auto-Renewal Plan is designed to save you time, effort and risk by extending your subscription automatically before it expires*.
Benefits of automatically renewing your licence include:

Uninterrupted protection — Your subscription will continue with continuous protection

Worry free, peace of mind that your devices are always secure

Saves you time — we take care of everything for you and will send you notifications to inform you of your next billing date & confirmation that your licence has been renewed

Flexibility — You may unsubscribe from this service at any time
*
Renewal prices are subject to change, additional online offers & discounts may be available at the time of your renewal which cannot be applied to your subscription. We will send you at least one email reminder to notify you of this. You will also receive by email confirmation of the renewal price you will pay, and the duration of your new subscription, before it is automatically renewed. You may be required to upgrade to the latest version of Kaspersky for free at this time.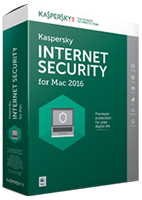 Kaspersky
Internet Security
for Mac 2016
Protect Your Digital Life
To get the best out of your Mac, you need proactive protection.
That's why we defend you from hackers, prevent your online activities being tracked, protect your kids from online dangers… and add extra security when you shop & bank online.
Defends your digital life, without slowing you down
Helps you to keep your private life… private
Adds security for online shopping & banking
Compare Products
Protects you when you surf, socialise & shop – on your Mac
Protects you when you surf, socialise & shop – on PC & Mac, plus Android devices
Gives you the power to protect your family – on PC, Mac, iPhone, iPad & Android
SECURITY – Protects against viruses, attacks, spyware, cybercrime & more

We all need to guard against digital dangers – so our award-winning security helps you protect against attacks & infections, warns you about dangerous websites and keeps your security up-to-date.

PRIVACY – Defends against phishing, spying & online behaviour tracking

Don't let snoopers and phishers steal your confidential information. We help you guard your personal data, prevent your online activities being monitored and block unauthorised use of your webcam.

MONEY – Boosts security when you're online shopping or banking

Fraudsters are constantly on the lookout for opportunities to steal money. So our unique security technology – Safe Money – helps you protect your money and your account details… to stop cybercriminals stealing them.

PARENTAL CONTROL – Helps you protect kids against online dangers & more

Because children are vulnerable to a wide range of Internet-based risks, our Parental Control features help you to steer your kids away from online dangers, block inappropriate content & websites and manage your kids' messaging on social networks.

PERFORMANCE – Lets your Mac perform…. just as it was designed to

Security shouldn't slow you down. So we've worked hard – combining protection and performance – to ensure your Mac doesn't have to work so hard… and you can get on with your busy life.

SIMPLICITY – Simplifies your security… giving you easy, online control

Nobody wants to waste time getting to grips with complex security. That's why we give you a free My Kaspersky account that makes it easy to manage your security from anywhere you can get online.

For all devices

Internet connection required - for product installation, activation, updates & for access to some features
Webcam Protection is available for a range of compatible web-cameras. For the full list of compatible devices, visit support.kaspersky.com/12476

Mac desktops & laptops

Memory (RAM): 1 GB
770 MB free space on the hard drive to download & install the application (depending on antivirus database size)
macOS X 10.9 − 10.12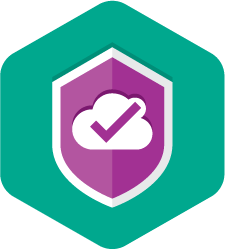 Kaspersky
Security Cloud
Want to protect more? Get a FREE trial of Kaspersky Security Cloud – security that senses dangers & automatically adapts to protect you.
Reviews
Have been Apple/Mac user since 84! Installed K over two years ago! Not many attacks but stopped 11 attacks/Trojan horses during that time! Great feeling of protection in the background! Updates protection when needed!

Unlike many anti-virus products, Kaspersky Security does not slow my system down. It works unobtrusively in the background. Of course, Macs do not get a lot of virus attacks, so sometimes one wonders if it is working. You'll find out quickly that it is if you plug in a memory stick from a friend that is infected. When this happened to me, Kaspersky immediately detected the virus, alerted me, and removed it.

have had several anti virus systems but Kapersky is far superior. Why: because it does not keep interupting with messages it just gets on with the job. Particularly like the secure banking feature as I have had cards frauded, not since I had Kapersky though. Will definitely renew my license annually