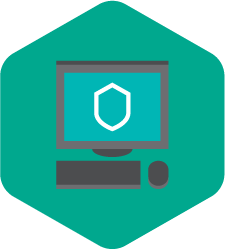 Kaspersky
Anti-Virus
Protection against Ransomware
Protecting you… starts with protecting your PC. That's why our essential PC protection defends against viruses, ransomware, phishing, spyware, dangerous websites and more.
It automatically scans your PC to find threats – including new drive-by cryptomining infections that could seriously damage your PC's performance. And, if your PC is infected, our technologies help you to rescue & reset it.
Blocks viruses, ransomware & more
Lets PCs perform as they're meant to
Simplifies security management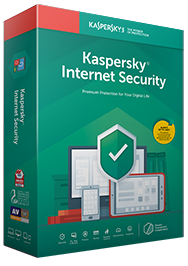 Kaspersky
Internet Security
Protection against Ransomware
When you go online shopping or banking – we protect your money & account details… when you socialise – we safeguard your identity… when you surf – we prevent attacks… when you download or stream – we block infected files.
Whatever you do in your digital life – our premium protection is here to help you protect it all.
Protects against attacks, ransomware & more
Protects your privacy & personal information
Protects money when you bank & shop online
*Some features are not available for some types of device.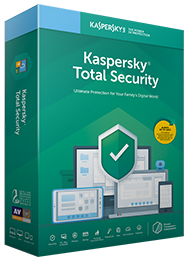 Kaspersky
Total Security
Protection against Ransomware
Your family's precious – so give them our ultimate protection.
Kaspersky Total Security helps protect your family – when they surf, shop, socialise or stream. Plus, extra privacy protection securely stores their passwords & key documents… protects files & precious memories… and helps safeguard kids from digital dangers.
Protects privacy, passwords, files & photos
Protects money when you bank & shop online
Protects your children… online & beyond
*Some features are not available for some types of device.
COMPARE PRODUCTS
Essential antivirus for Windows – blocks viruses & cryptocurrency-mining malware
Product version is not available anymore. To stay protected, please choose one of the offers at Kaspersky web store
Advanced security & antivirus suite for your privacy & money – on PC, Mac & mobile
Product version is not available anymore. To stay protected, please choose one of the offers at Kaspersky web store
Premium security & antivirus suite for you & your kids – on PC, Mac & mobile
Product version is not available anymore. To stay protected, please choose one of the offers at Kaspersky web store
MULTI-AWARD WINNING INTERNET SECURITY PROVIDER




SECURES

Every day, hundreds of thousands of new malware items are unleashed – including ransomware that could lock up every file on your PC. That's why our cloud-assisted security does more to protect your PC from infections & ransomware – including WannaCry – and also helps you to avoid dangerous websites.

PERFORMS

Because we've combined security & efficiency, you get protection that won't slow you down… so you can do more of the things you really want to do.

SIMPLIFIES

You can manage your security – from anywhere you can get online – and expert technical support is only a click away.
How To Protect Yourself From Computer Viruses: What You Need To Know
PC, Mac, Smartphone and Tablet users are under ever-evolving threat from computer viruses and malware. Taking action means understanding what you're up against.
Install virus prevention and detection software
Kaspersky Lab provides award winning cyber security. To protect your computer and your family is to install reliable computer security software that can actively scan your system and provide protection against viruses. However, be aware that not all security solutions are the same. There are a number of free antivirus software products on the Internet, but many of them are not robust enough to provide complete protection, or they are not up to date. Instead some of the free software available offers no protection, instead, they install viruses, adware, spyware or Trojans when you try to download and install the program.
REVIEWS
Has been and continues to be an excellent product that I have personally used on my computers for the past several years...good customer service and dependable product make for a better than average combination.

Without apparent effort this product protects and defends my computing investment. It uses less resources than other name products and yet catches bad things the others miss. I would highly recommend it and I will not use any thing else.

This program works wonderfully. Before I had many virus', and this program has stopped all of them.
What is the difference between Kaspersky Anti-Virus and Kaspersky Internet Security?

Kaspersky Anti-Virus and Kaspersky Internet Security are designed to protect your computer from harmful programs. Kaspersky Anti-Virus offers basic security for your PC from viruses. Its features include anti-virus scan for your software and files, activity monitoring, vulnerability searches and internet traffic control.

Kaspersky Internet Security is an enhanced version of Kaspersky Anti-Virus offering a number of additional useful tools, such as:

Firewall - Enables secure access to both your local network and the world wide web.
Anti-Spam - Filters suspicious emails from your inbound and outbound mail to the Spam folder.
Private Browsing - Blocks advertisers or web analytics systems tracking your browser settings and pages you visit.
Parental Control - helps to limit your child's access to the computer and/or certain programs and games, as well as particular web site categories and social media contacts.
Safe Money - Protects your online banking and credit card data.
MOST TESTED. MOST AWARDED. KASPERSKY LAB PROTECTION.
REVIEWS
I've used Kaspersky for many years. At the time I was looking for protection that wasn't a resource hog. Kaspersky is number 1!!!!!! It has been protecting my pc, tablet n mobile flawlessly. No infections in 15 years!!!

The around the clock protection is outstanding and provides the security needed to survive in today's world. While in use, I can practically sense threats trying to infiltrate my life by the software's alerts or notifications. Kaspersky Internet Security Multi Device Software is a must and have my complete trust. Highly recommended and thank you Kaspersky!

I love the safe money icon that follows me around when I make a internet purchase. I no that I'm getting extra protection.
What is the difference between Kaspersky Internet Security and Kaspersky Total Security?

Kaspersky Total Security is Kaspersky Internet Security enhanced with even more useful and user-friendly tools.

Additional features in Kaspersky Total Security include:

Device Management - Manage your security online from anywhere and technical support is only a click away.
Data back-up - Automatically backs-up photo's, music & files and encrypts in accordance with a user-defined schedule.
Password Manager - All passwords are synced to the cloud, so they are available from any device where Password Manager is installed.
MOST TESTED. MOST AWARDED. KASPERSKY LAB PROTECTION.
For three years in a row, our security technologies have been the most tested and most highly awarded. In a wide range of independent tests, our products consistently achieve more first place awards and more Top 3 ratings than any other vendor's offerings.
For more details, please see www.kaspersky.co.uk/top3.

Kaspersky Total Security

Top choice for Internet Security

'Minimal performance impact and perfect protection scores'
Kaspersky's Safe Money: Secure Your Online Transactions

Discover how Kaspersky Lab's unique Safe Money technology provides an additional layer of protection when you're shopping or banking online. As well as ensuring the website you're visiting is secure, Safe Money can also open the site in a special, protected mode – in order to prevent your passwords, credit card number or personal data being accessed by cybercriminals.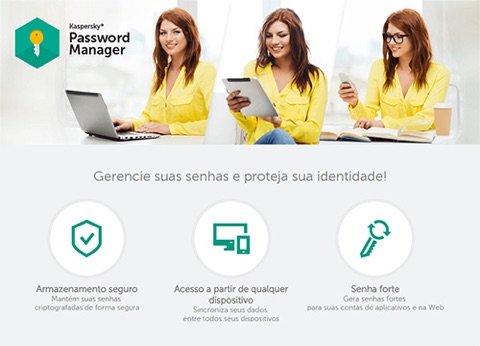 Protect your identity today!
Password manager software strengthens the effectiveness of your website passwords by remembering and encrypting them. It has become a necessary tool for computer users anywhere — after all, only passwords stand between cybercriminals and your most sensitive data. However, not enough people are using them properly.
REVIEWS
Excellent product. Easy to use. Good price and outstanding customer service. We have Total Security on all products and devices. Kaspersky products do the job for us - while we do our job at its best - without worry or hassles. Nice Going Team!

I highly recommend Kaspersky security software. Have tried other products but always come back to the best in the business.

I have been a Kaspersky customer for several years and by far this is the best! The 'Safe Money' feature is exceptional! This feature blocks ALL online capturing information when you use Safe Money. Also, protects your financial transactions! I am a proud customer and tell everyone about Kaspersky!
400 million users protected

by Kaspersky Lab Technologies
360K

new malicious files detected by us every day

270K

companies use our security

200

countries and territories benefit from our products

~ 120

global Technology / OEM Agreements