Auto-Renewal Plan
Our hassle-free Auto-Renewal Plan is designed to save you time, effort and risk by extending your subscription automatically before it expires*.
Benefits of automatically renewing your licence include:

Uninterrupted protection — Your subscription will continue with continuous protection

Worry free, peace of mind that your devices are always secure

Saves you time — we take care of everything for you and will send you notifications to inform you of your next billing date & confirmation that your licence has been renewed

Flexibility — You may unsubscribe from this service at any time
*
Renewal prices are subject to change, additional online offers & discounts may be available at the time of your renewal which cannot be applied to your subscription. We will send you at least one email reminder to notify you of this. You will also receive by email confirmation of the renewal price you will pay, and the duration of your new subscription, before it is automatically renewed. You may be required to upgrade to the latest version of Kaspersky for free at this time.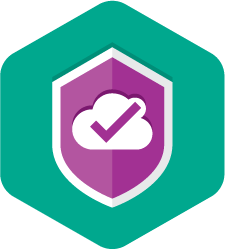 First adaptive security service that automatically adjusts to protect your connected world. It makes sure that you're always in control of your digital life - wherever you are, whatever you're doing, on any device.
Gives you powerful protection

Whether you're online socialising, shopping, banking, streaming, emailing or downloading, we help you stay safe.

Automatically adapts to you

This is the first security that automatically adapts to fit your lifestyle – to help you protect your connected world.

Safeguards more of your life

We help prevent any of your communications & personal information being intercepted – so your private life stays private.
WHY ADAPTIVE SECURITY?
Your life… your security
Kaspersky Security Cloud gives you the award-winning protection you expect from Kaspersky Lab – to defend you from viruses, Trojans, worms, phishing and more – plus a whole host of new, adaptive security features.
Security won't get in your way
Because we use cloud-based technologies, you get faster security that puts less load on your phones, tablets & computers – so there's more space and more performance for the things you really want to do.
A security expert at your side
The adaptive security service acts like your very own security expert – automatically warning you about new threats that are directly relevant to what you do… online and beyond
Locks out the identity thieves
When you connect to a public network, we help ensure the data & messages you send or receive won't fall into the wrong hands. Plus, all your passwords, address details & credit card numbers are locked in a secure vault.
Protects all your family
We give you new ways to protect your kids when they're exploring & learning in the connected world. And it's easy to give family members access to the specific security features they need – on their mobiles & computers.*

*Only available in Kaspersky Security Cloud – Family.
Simplifies your connected life
You get a free My Kaspersky account that makes it easy to manage your security – from any online device – and gives you rapid access to technical support.
Kaspersky Security Cloud
Personal
Adapts to protect your connected world
Automatically senses digital dangers
Helps you keep your kids safe – so they can enjoy the digital world
Kaspersky Security Cloud
Family
Adapts security to protect your family
Automatically senses digital dangers
Helps you keep your kids safe – so they can enjoy the digital world
Reviews
Kaspersky is a familiar name in security, but its newest product, Security Cloud, is a new take on antivirus software. Security Cloud is a subscription service that protects your PC or Mac, plus your Android or Apple iOS mobile devices, and gives you access to some of Kaspersky's other security tools

KSC has been designed to use Adaptive Security. This feature involves additional protection being turned on in situations when the user makes an unsecured Wi-Fi connection and advice given when a password might be under the threat of being hacked

Kaspersky's recently-launched Security Cloud is the latest weapon in the evolving war against online threats, one which uses remote computing power to arm customers with an array of powerful and constantly updating security tools.
System Requirements
For all devices

Windows®-based desktops and laptops

1500 MB free space on the hard drive
Microsoft® Internet Explorer® 10 or higher
Microsoft .NET Framework 4 or higher
Microsoft Windows 101 Home / Pro / Enterprise2 3
Microsoft Windows 8 & 8.1 / Pro / Enterprise2 / 8.1 update3
Microsoft Windows 7 Starter / Home Basic & Premium / Professional / Ultimate — SP1 or higher3

Processor: 1 GHz or higher
Memory (RAM): 1 GB (32-bit) or 2 GB (64-bit)

Windows-based tablets (system with an Intel® processor)2

Microsoft Windows 101 Home / Pro / Enterprise2 3
Microsoft Windows 8 & 8.1 / Pro (64-bit3)
Minimum screen resolution: 1024x768

1 If you're using Windows 10, you might need to download & install all available patches for your Kaspersky Lab security software. Product is not intended to operate on Windows 10 Mobile/S editions.
2 The Kaspersky Safe Kids service isn't available for this version of OS or type of device.
3 Some product features may not work on 64-bit operating systems. Please visit https://support.kaspersky.com/14303 to get more details.

Mac desktops and laptops

1800 MB free space on the hard drive
Memory (RAM): 2 GB
macOS 10.12 – 10.13

Android smartphones and tablets4

Android™ 4.15 – 8.1
Minimum screen resolution: 320x480

4 The Kaspersky Internet Security for Android functionality may currently be limited on certain devices. Please visit https://support.kaspersky.com/10216 for more details. If you are using Kaspersky Safe Kids on Xiaomi© or ASUS© devices, please visit https://support.kaspersky.com/12980 for more details on how to setup & use the service.
5 The Kaspersky Safe Kids service operates on Android™ 4.4 – 8.1.
Please note we do not support the beta versions/previews of new operating systems. Only final, officially released operating systems are supported by the product.
Kaspersky Security Cloud: Frequently Asked Questions
1. Why did you decide to release a new service?

We regularly research the market and the needs of Internet users, and we see that they change over time. Many users don't need a standard all-in-one solution to protect them from cyberthreats, because their experience of using a device and the Internet is unique. In addition, many need protection from other dangers, as well as from cyberthreats. We know that today's security solution must take into account each person's individuality and their security needs, and be able to adapt itself to the user – right away, and at the right time.

In recent years we have also seen a dramatic rise in the proportion of people using a mobile device as their primary device. This is why we are proud to launch this adaptive, cross-platform security solution with an extended set of features, especially for mobile solutions.

2. How does this solution differ from your other products?

Adaptive protection. The solution offers basic protection and a set of extra features that are added, depending on the user's online activities. For example, Secure Connection (VPN) is launched if the device is connected to an insecure Wi-Fi network or if websites or apps are opened that contain private content (such as social media, online stores, etc.). The solution also gives recommendations based on analysis of the device's status or the user's behavior. For instance, it may recommend changing a password or the configuration of the operating system, if necessary.
My Kaspersky & Subscriptions. The solution is tied to the user's account on the My Kaspersky portal rather than to a license. If a family subscription is purchased, the master account allows its owner to share protection with family members and friends; in this case, every individual user will have their own My Kaspersky account, and the solution will adapt to their personal needs.
Security Live. A service that sends notifications to the user about events requiring their attention, e.g. if there was a password leak affecting a service that they use, or a new fraudulent scheme emerges that targets online banking users, and the user needs to know because they regularly use online banking.
State of the art. The service is constantly developing. All the newest features and innovations appear first in Kaspersky Security Cloud.

3. How is the adaptability of Kaspersky Security Cloud different from that in regular security products? Other products also allow customized settings, inform the user about potential threats on a device, and offer advice. So, what's the difference?

Kaspersky Security Cloud is a cross-platform service that protects not the specific device that it is installed on but rather the owner of the devices who has logged on as a user of Kaspersky Security Cloud. The service always observes what's happening on the devices, including the user's activities, and offers extra features and useful advice when necessary. That way, the user is protected against cyberthreats, and any gaps in their security knowledge are bridged – ensuring they are protected. The main standout features of this service are its flexible levels of protection that adapt to the user's behavior.

4. If I don't want the product to adapt to my activity and suggest things all the time, can I opt out?

Yes, you can change those features in the product's settings.

5. You say the product will download new features when they are released in the future. At some point won't it become too bulky, especially for mobile devices? And won't it consume too much network traffic?

The service, with all its functions and downloads, takes up no more than 200 MB on a device, which is less than a standard messenger. The average amount of traffic used to process data in the cloud is 4 MB per day.

6. Why is the word 'cloud' used in the product name if it's installed on a device?

By adding the word 'cloud' to the service name we would like to emphasize that it's not tied to a specific device, but works as a single service, even if it is installed on different devices. This is our first step towards creating protection 'beyond' the device – protection for a specific person, with their typical online habits, risky choices and preferences.

Many security management features in Kaspersky Security Cloud are now implemented in My Kaspersky, so the user can remotely configure their security. Also, part of the data required for the service to work is sourced from Kaspersky Lab's cloud. This includes a security assessment of the Wi-Fi network the user is about to connect to, or the category of website the user is about to open, which is required to launch Security Connection at the right time, or a description of the user's interests, so they can be shown news that is of interest to them, etc.
IT'S THE FIRST ADAPTIVE DIGITAL SECURITY
Kaspersky Security Cloud automatically adjusts to protect your connected world, making sure that you're always in control of your digital life.
FIND OUT MORE