Product
Kaspersky Security for Microsoft Office 365
Advanced, all-in-one threat protection for Microsoft Office 365 communication and collaboration services
The Product
Kaspersky Security for Microsoft Office 365 is the smart choice for advanced, all-in-one threat protection for Microsoft Office 365's communication and collaboration services – no vendor lock-in, no wasteful shelfware.
While Microsoft's default, built-in security controls provide only a basic level of security, Kaspersky Security for Microsoft Office 365 deals with known, unknown and advanced threats. It uses advanced heuristics, machine learning and other next-generation technologies to protect cloud-oriented enterprises from ransomware, malicious attachments, spam, phishing, Business Email Compromise (BEC) and unknown threats.
Kaspersky Security for Microsoft Office 365 delivers a significantly superior security performance:
AA rating in SE Labs' email security test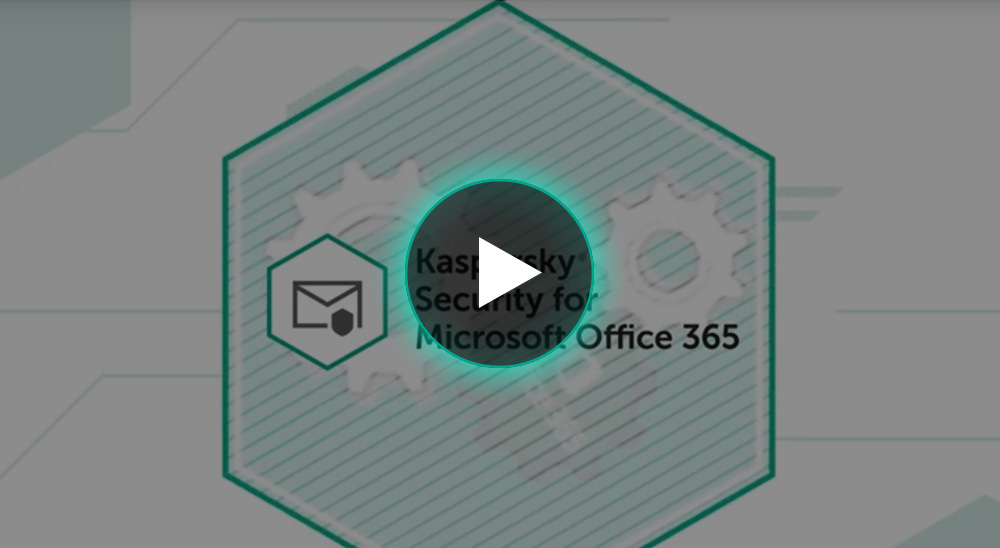 Stop phishing and Business Email Compromise
Phishing is a conduit to delivering malware and ransomware to your network. While only 4% of users actually click a malicious link, it's enough to let the epidemic in.
Kaspersky Security for Microsoft Office 365 applies a mix of proven methods such as SPF, DKIM and DMARC with sandboxing and machine learning to filter out threats before users can make a mistake.

Prevent malware spread across cloud storage
Corporate OneDrive serves as a trusted storage for Microsoft Office 365 users that makes it a very attractive transport for malware delivery within the enterprise. Kaspersky's anti-malware engine combines signature-based protection, heuristic and behavioural analysis to timely detect malware in both Exchange Online and OneDrive.

Meeting compliance
Kaspersky doesn't store any of your corporate data on their servers. You are always the one to decide where to host your mailing security service according to the local data protection regulations.

Free your business from vendor lock-in
Many vendors offer enticing discounts at the start, but if you decide to switch down the line for any reason – if you want to scale, for example – the costs increase exponentially. A solution with known security gaps is bad enough; being locked into it is even worse. With Kaspersky Security for Microsoft Office 365 you avoid vendor lock, don't pay for what you don't need and enjoy straightforward licensing.
Suitable for
This solution is particularly well suited to addressing the security requirements, concerns and constraints of these enterprise sectors.
The Use
Don't Let Phishing and Malware In

Complementary protection to fill Microsoft's security gap in your Office 365 security from a most tested, most awarded vendor.
Higher anti-malware catch rate. High anti-phishing catch rate. Sophisticated attachment filtering.
Evolving cyberattacks are instantly prevented while blocking unknown and zero-day malware lurking inside corporate emails and files stored in OneDrive, SharePoint Online and Teams are blocked.

Advanced Detection Techniques

Security solution with unified set of technologies to protect Microsoft Exchange Online, OneDrive, SharePoint Online and Teams from the widest range of known and unknown threats.
The solution uses advanced heuristics, machine learning and other next generation technologies to protect your business from ransomware, malicious attachments, spam, phishing, business email compromise (BEC) and unknown threats.
Protection on-demand to clean mail accounts after an attack or ad-hoc checks of suspicious mailboxes.

Security as a Service meets Software as a Service, offering advanced security at a fraction of the cost, agile service delivery and it's ready to scale.
Exchange Online integration using Graph API and Exchange Online cmd-lets and other Microsoft-approved technologies.
Secure integration with corporate Microsoft OneDrive, SharePoint Online and Teams with OAuth 2.0 as easy as grant a consent to the Kaspersky application.
24/7
PREMIUM SUPPORT
Professional help is available whenever you need it. Operating in more than 200 countries, from 34 offices worldwide, we have you covered 24/7/365. Take advantage of our Premium support packages, or call on our Professional Services to ensure that you derive maximum benefit from your Kaspersky security installation.
White Papers
Learn more, with thought leadership from our globally recognised cybersecurity experts
The Threats
Email remains the number one route into attacking and disrupting any major organisation. While malware is usually sent via email and hosted on cloud storages. Your choice of Office 365 security solution largely dictates the likelihood of:
Ransomware attacking through an infected email or attachment

Malware spread via corporate OneDrive storage

Phishing scams, defrauding employees and the business

Time-wasting 'false positives' generated by over-automated anti-spam

Non-compliance with data protection legislation
Get in touch and talk to one of our experts about how Kaspersky can help you protect your business.
The GARTNER PEER INSIGHTS Logo is a trademark and service mark of Gartner, Inc. and/or its affiliates and is used herein with permission. All rights reserved. Gartner Peer Insights reviews constitute the subjective opinions of individual end users based on their own experiences and do not represent the views of Gartner or its affiliates.